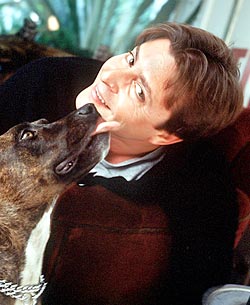 Name - Judd Asher Nelson
Birth Place - Portland Maine
Date Of Birth - November 28 1959
Occupation - Actor and Writer
Education - St Pauls Prep School in Concord N.H
Studied - Haverford College in Pennsylvania
Majored - Philosophy
Drama Coach - Stella Adler in New York
Family - Father Leonard Nelson (Lawyer) and Mother Merle Nelson (Lawyer & Politician) and two sisters Eve & Julie
Currently Lives - Los Angeles
Management Company - Shelter Entertainment
Writing Partner - Steve Bing
Hobbies - Sports (including playing golf) & his Motorbike & Reading
Favourite Sports Teams - The Boston Red Sox (baseball team) and The Boston Celtics (basketball team) and The New England Patriots (football team) and finally The Boston Bruins (hockey team)
Pets - Staffordshire Bull Terrier called Tallulah Bighead !!!
Judd Nelson was one of several actors in the 1980's dubbed by the media as the 'Brat Pack'. The actor reportedly gained his interest in the profession after going along to an audition with a friend and ending up winning a part he had to try for in order to get into the theatre. Judd Nelson also developed the feature 'Guys Without Lives' with Steve Bing - based on true stories which is published in National Lampoon.
Unfortuately Judd doesn't have an official snail or email addy to write him at .. there are a few bogus ones out there but if that changes I'll be sure to post it here!